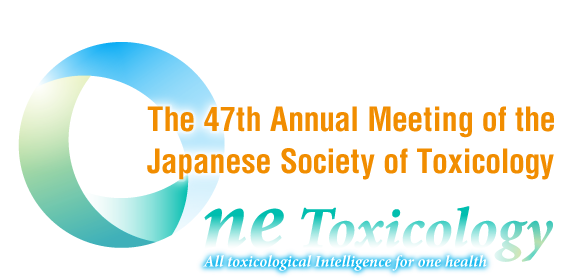 Online Meeting
Important Notice
After careful consideration, the organizing team of 47th JSOT (JSOT2020) has decided to host the annual meeting in this year online only. The virtual meeting will be held on the initially planned dates from 29th June –1st July 2020, and the most oral sessions will be organized by live streaming and prerecorded video. Poster sessions are planning to introduce e-poster style to upload on the web with limited period. As we find details, it will be informed on this website. We hope you will understand the situation.
*Please check more details >>
Information for Participants
Looking forward to meeting you at the 47th JSOT Annual Meeting in the virtual space.
2020/4/20
Yoshito Kumagai, Ph.D.
15th President, Japanese Society of Toxicology
Akihiko Hirose, Ph.D.
President of 47JSOT
| | | | |
| --- | --- | --- | --- |
| | | | |

2020.04.24

Program has been updated.

2020.04.23

Early Registration has been extended.

(Deadline: May 29 (Fri), 2020)

2020.04.20

Registration, Information for Participants has been updated.

2020.04.09

47th JSOT (JSOT2020) has decided to host the annual meeting in this year online only.

2020.03.25

Early Registration has been extended.

(Deadline: May 15 (Fri), 2020)

2020.03.17

Abstract Submission has been closed.

2020.03.06

Deadline for Abstract Submission has been extended.

(Deadline: March 13 (Fri), 2020)

2020.02.21

Deadline for Abstract Submission has been extended.

(Deadline: March 6 (Fri), 2020)

2020.01.28

Program has been updated.

2020.01.24

Early Registration has been started.

(Deadline: (Presenters) February 21, 2020, (Others) March 31, 2020)

2019.12.20

Abstract Submission has been started.

(Deadline: February 21, 2020)

2019.09.19

Open the website of the 47th Annual Meeting of the Japanese Society of Toxicology